Create a port switcher
Virtual Serial Port Driver PRO is a professional program that delivers a host of powerful features. The software stands out for its versatility and ease of use. The advanced functionality of this solution includes such options as splitting, joining, and merging of hardware and virtual COM ports. Also, the app gives the way to create a port switcher which identifies a free serial port in your system and assigns it to your serial app automatically.
Here's a closer look at how to use the port switcher option and when it can be useful.
Probably you would agree that the ability to access the same COM port from multiple apps can significantly simplify the work of serial software and hardware developers and testers. And what if I tell you that with VSPD PRO you can not only share a real COM port among multiple apps but connect to this port several devices at a time?
For example, you have three serial ports with identical devices connected to them. As its name indicates, Virtual Serial Port Driver PRO can help you create a virtual COM port that will fully emulate a hardware one. So, once you create a virtual port, you can join your physical ports to it.
Now, you should specify the name of this port in your programs. Please note that you cannot use more than three apps in this case, as the number of programs should not exceed the number or real ports joined to the virtual one.
Next, with the help of VSDP PRO you create a COM port switcher. Now, every time one of your apps needs to talk to a serial device, the software will connect it to a device being currently free. A free device will be detected automatically among those attached to physical serial ports.
Here's a simple step-by-step instruction:
Install Virtual Serial Port Driver PRO on your computer and launch the app.
Head to the "Switch" tab and join the required number of real serial ports to a single bundle.
Choose a single name for all of them.
Hit the "Add switcher ports" button.
This is it! Now, your will see you port switcher in the Bundle tree.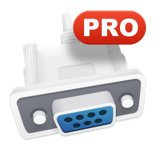 Virtual Serial Port Driver PRO
Requirements: Windows (32-bit and 64-bit): 2008/ Vista/7/8/10, Windows Server 2012, Windows Server 2016 ,
6.54MB
size
Version
9.0.270
(
12th Apr, 2018
)
Release notes